W.E.E.P. News
Wireless Electrical and Electromagnetic Pollution News
18June 2010
Parents question Wi-Fi
Public school board says it's following Canadian safety guidelines
NATHAN TAYLOR
The Packet & Times
"I don't know what to do, and I'm scared."
Betty Churchley isn't the only one looking for answers to the list of unknowns surrounding her 12-year-old son's symptoms, which she believes could be a product of electromagnetic radiation coming from the wireless Internet (Wi-Fi) in her son's school, Mountain View Elementary School in Collingwood.
Fighting back tears, Churchley spoke about her son, who uses a heart monitor because of an erratic heartbeat that she said began when Wi-Fi was installed at the school.
The Collingwood mother was among the 80 or so people who attended an information session last week at Collingwood's Leisure Time Centre. The meeting was organized by the recently formed Simcoe Safe School Committee.
The committee, made up of mental health counsellors, chiropractors and others in the community, paid to bring Magda Havas, associate professor at Trent University, to make a presentation. Havas has conducted electromagnetic research for 20 years, and she believes Wi-Fi should not be in schools.
"If this was happening to my child," Havas told Churchley, "I'd take them out of Mountain View school."
Angel Bavelaar, of Wasaga Beach, came to the meeting with her eight-year-old son, Dalton, who has been diagnosed with superventricular tachycardia, the symptoms of which includes a racing heart.
Bavelaar had to pause to regain her composure while describing her son's conditions.
"He has every single symptom you can think of. It breaks my heart," she said. "He was a normal kid, then it was almost like he had ADHD, stopped sleeping, cried all the time. He just wasn't himself."
"I feel like I'm going to fall and it feels like I'm not really in my body and I can't move," Dalton explained.
Bavelaar said Dalton has collapsed five times at his school, Birchview Dunes Elementary School.
"It's always at school where he seems worse," she said. "Even if it turns out that he's just got a normal heart condition, the Wi-Fi isn't helping anything."
Christine MacLean is undecided. She attended the meeting as part of her continued quest to find out what's causing symptoms — such as nausea and trouble sleeping — experienced by her kids, who attend Mountain View. She wants to know the differences between symptoms related to anxiety and those caused by electromagnetic fields.
She explained how her children's symptoms subsided when they were away from Wi-Fi, "only to re-experience them when we spent a weekend in a Toronto hotel" that had wireless Internet.
The Simcoe County District School Board implemented Wi-Fi in all of its schools as part of its information and communication technology (ICT) strategic plan. The board has been faced with criticism recently by some parents of Mountain View students.
But the board's policy conforms to Health Canada's guidelines.
"We count on our government regulators to help us out," said board superintendent John Dance. "We've taken a look at it… and we have to say there's nothing there that says (Wi-Fi) is unsafe."
The board has been accused of knowingly putting kids' health at risk by not exercising the precautionary principle, which calls for all risks to be eliminated in the absence of conclusive evidence they cause harm.
"You're not going to cross the road because you might get hit by a car? That's simplistic, I know, but the precautionary principle is not based on science," Dance said, adding, "there hasn't been any medical evidence from medical doctors" saying its usage in schools is harmful to children.
At an earlier meeting, the board brought in physicist Tony Muc, who agreed the technology was safe. The parents argue that Muc did not focus on the biological effects.
"I understand that," Dance said, "but when you bring in someone with hard science, you go with scientific answers."
Havas maintains Health Canada's Safety Code 6, which sets guidelines for radiofrequency exposure, "does not protect anyone against biological health effects."
"We've got to educate school officials that this technology is not safe. We're not saying don't use the Internet," she said, noting they are asking that the board recognize potential hazards and exercise the precautionary principle. "They're not doing that, and they're hiding behind Health Canada."
No representatives from the Simcoe County District School Board were at last week's meeting, as they were at their own finance meeting. But Paul Wehrle made it.
Wehrle is a trustee with the Bluewater District School Board, which also has Wi-Fi in all of its schools.
"I have three grandchildren in the system, and I'm very nervous," he said. "We're immersing children in an electromagnetic environment that we really don't know anything about."
Not knowing is the frustrating part, said Wehrle, who represents Meaford and the Blue Mountains.
"You have a lot of theories. You can't prove what you're saying," he said of Havas, noting the symptoms could be tied to other causes. "On the other hand, Safety Code 6 is not based on any stronger evidence than hers."
Wehrle noted he was not speaking on behalf of the school board.
Angela Klein is on the parent council at St. Vincent-Euphrasia Elementary School in Meaford. Her seven-year-old daughter attends the school.
Like so many others, Klein is on a hunt for answers. She believes Wi-Fi is causing health problems, but it hasn't been proven to her.
"But I also believe they can't prove to me it's not. And if we don't have an answer either way, it shouldn't be there," she said.
Initially, a group of Mountain View parents asked the Simcoe County board to turn off Wi-Fi access points at the school that it said were unnecessarily left on. One of the arguments was regarding the level of radiation being emitted. The board said the access points were to remain on so the Wi-Fi could be accessed in various parts of the school at various times.
"The board has already made its decision on this. Nothing that I've ever read has said a cellphone tower is less powerful than an access point," Dance said of arguments to the contrary. He also noted trustees recently reaffirmed their support for the strategic plan, including Wi-Fi usage.
The board's objective in introducing Wi-Fi in all schools, Dance said, was equity and accessibility.
"The reason why we went to wireless is because, through the ICT strategic plan… we found that we didn't have the availability to have computer labs for every student," he said.
With wireless, "the computers move as opposed to the students," Dance said.
Among the information distributed to those in attendance at last week's meeting were results from surveys conducted by the school board as part of its ICT plan.
Rodney Palmer, who represents the Simcoe Safe School Committee, and whose kids attend Mountain View, noted the answers to one question in particular stood out.
The board asked: "How would you like to see technology used in schools?" One option was "Wi-Fi in school/more Internet." Zero per cent of parents chose that option, while 11% of the board's central staff, 34% of school staff and 16% of students chose it.
Also, only 8% of central staff and 1% of school staff identified "lack of Wi-Fi in schools" as a concern. Zero per cent of central staff and 19% of school staff considered wireless connection a priority.
Havas commended those who showed up at the meeting for taking an interest in the matter, and she encouraged them to keep the heat on the board.
"If you organized yourselves, you could be a very powerful group, and I think that's what you need to do," she said.
Earlier this week, the Simcoe County District School Board posted to its website letters from both Education Minister Leona Dombrowsky and Nina Arron, director of public health protection and prevention with the Ministry of Health and Long-Term Care, in which they state their support for the board's use of Wi-Fi.
Both refer to Safety Code 6, with Dombrowsky stating Health Canada and the World Health Organization "have the scientific, technical and public policy knowledge" to deem the technology safe.
------------------------------------------------------------------------------------------------
Type 3 Diabetes and Electropollution
http://www.nehealthadvisory.com/2010/06/type-3-diabetes-and-electropollution
--------------------------------------------------------------------------------------------------
Burgeoning Triumph in Cell Phone Radiation Law
http://kimberlysnyder.net/2010/06/17/burgeoning-triumph-in-cell-phone-radiation-law/
-----------------------------------------------------------------------------------------------------
Switching of the Brain
www.bevolution.org – free download of brainwave model This interview is in 0+13 parts. This interview is with the pioneer and doctor Manfred Doepp who approaches the subject from both the tradional medical background and from the holistic and future perspectives. Switching of the Brain is actually what the mobile phone radiation and the wireless society creates in the human brain. The health risks, facts and damages are already extreme in many ways but not many people are really aware about what happens in the brain when being exposed to EMF, EMR and mobile phone radiation cell phone radiation / mobile towers and masts. Switching of the brain is essential to understand when you wish to understand what is really going on and why it seems that many people are becoming more and more willingless zombies or living dead just consuming without pursuing any purpose in life. The term switching explains why people become caught in the prison of the mind.
http://www.callknowledge.com/index.php/archives/dr-doepp-interview-about-switching-of-the-brain-part-013
Submitted by Robert
----------------------------------------------------------------------------------------------------------------
The professionally acclaimed
Chemical Exposures: Low Levels and High Stakes, Second Edition
by Nicholas A. Ashford and Claudia S. Miller

Purchase from Amazon

View full version in PDF
http://drclaudiamiller.com/publications-presentations
-----------------------------------------------------------------------------------------------------------
June 15, 2010
http://pagingdrgupta.blogs.cnn.com/2010/06/15/critic-details-flaws-of-cell-phone-safety-study/?hpt=Mid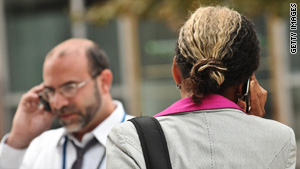 By Danielle Dellorto
CNN Medical Senior Producer
Critics are speaking out against the the controversial Interphone cell-phone safety study released last month.
U.S. researcher Lloyd Morgan presented a report in Seoul, South Korea this week, challenging Internphone's findings at the Bioelectromagnetics Society's annual meeting. Morgan's presentation is based on his re-evaluation of the Interphone study. He says it emphasizes several design flaws.
"The Interphone study is giving people false hope. Most people only hear the headline, Cell phones don't cause cancer' yet the devil is in the details," Morgan, Senior Research Fellow at the Environment Health Trust, said. ""When I read study papers, I look for what they are not saying – and this study isn't saying a lot."
According to Morgan, the bias of the participants in the study, the exclusion of data from children and young adults, the exclusion of people who died from brain tumors as well as a limit to the type of tumors studied are among the study's design flaws and are all reason to question the validity of the Interphone research.
Interphone's international study concluded cell phone usage doesn't increase the risk of brain tumors for the "average" person but also acknowledged that the study's findings were not definitive and called for more research.
Other scientists and researchers, like Lloyd Morgan, say the study's findings were not only misleading to the general public but also reference out-of-date data that doesn't correlate to the average cell-phone user today.
"The average study participant used his phone only 2-2.5 hours a month. In contrast, the typical person in the U.S. today uses his phone about 2.5 hours a week–about 4 times as much and will exceed the lifetime use of the typical Interphone study participant in less than a year," said University of California, Berkeley School of Public Health director, Dr. Joel Moskowitz.
For now, the potential health risks of cell phones usage remain unclear.
"I want to be clear that I don't believe all cell-phones need to be abandoned but consumers can't read headlines from studies like this and think they are completely safe," said Morgan. "I don't want people to wake up 10 years from now and say, 'Oh my god, why weren't we told.'"
Editor's Note: Medical news is a popular but sensitive subject rooted in science. We receive many comments on this blog each day; not all are posted. Our hope is that much will be learned from the sharing of useful information and personal experiences based on the medical and health topics of the blog. We encourage you to focus your comments on those medical and health topics and we appreciate your input. Thank you for your participation.
Posted by: Danielle Dellorto - CNN Medical Senior Producer
Filed under: Cancer • Cell Phones • Global Health
Web site www.weepinitiative.org    e-mail contactweep@weepinitiative.org
To sign up for WEEP News: newssignup@weepinitiative.org  (provide name and e-mail address)
W.E.E.P. – The Canadian initiative to stop Wireless Electrical and Electromagnetic Pollution